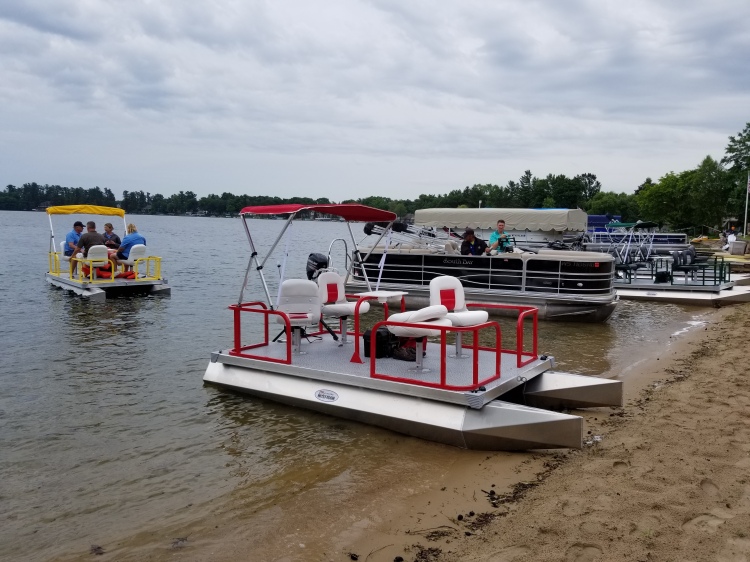 The Mitey Toon comes with 4 seats with heavy duty seat pedestals, center table with 4 cup holders, battery and charger, 55# Minn Kota trolling motor, bimini, premium marine grade vinyl flooring, powder coated color matched railings (many colors to choose from) and running lights. Specifications: Overall length: 12 Feet 7 Inches Deck Width: 6 Feet Deck Length: 10 Feet Weight: 420 Pounds Load Capacity: 800 Pounds Person Capacity: 4
Blackhawk Marine is taking orders now for the hottest selling Electric Pontoon in the United States. ATT: THERE SEEMS TO BE INFORMATION ONLINE THAT IS MISLEADING. THE MITY-TOON IS MANUFACTURED IN DULUTH MN.ANY OTHER INFO IS A LIE. Please call and chat with one of our Electric MiteyToon Specialists TODAY and we will have you on the water in Spring. We offer nationwide shipping. This small 4 person all electric pontoon will get you into places other boats won't. 12 inches of water is all you need for this small pontoon. It is perfect for lakes, rivers and ponds. If you live on a lake that won't allow gas powered boats this is an absolute MUST have. The MiteyToon is perfect for fishing or a lazy martini cruise. Call 920-787-0033 to Speak to one of our Electric MiteyToon Specialist @ Blackhawk Marine in Beautiful Wautoma, Wi.
Request Information
Fill out the small form below. Details above will be sent with this form
to help inform the seller of what interests you.